Futurist speakers are often called upon to provide keynote speeches, breakout sessions, workshops and master classes on the latest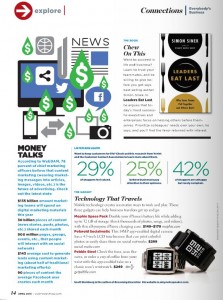 technology trends, or new developments in the fields of leadership, management and digital media. Recently, we had the opportunity to share a look at the hottest new developments in all these areas with millions of readers via a column for US Airways Magazine (www.usairwaysmag.com) as well. In this post, we thought we'd provide a snapshot of several subjects covered in the piece, which also touches on some of the best new gadgets and high-tech mobile devices you'll want to be packing in your carry-on as well.
To begin with, the clip touches on the growing import of content marketing to the advertising and public relations (PR) fields. Among futurist speakers, especially in the arena of communications technology or digital media, it's a commonly discussed topic – and one that's commonly discussed in the boardroom by top businesses and brands as well. A whopping four-fifths of C-level executives now say it's the future of advertising – and you can clearly see in the full clip (available in the magazine's April issue) just how much content and inbound marketing promise to impact how customer outreach is handled going forward.
The column also takes a look at what it takes to build brand loyalty, and create leadership strategy that can help any management team excel by putting others' first. Naturally, teamwork can be an extremely powerful force for good when you partner with customers, colleagues and strategic partners to create positive change on every level. Finally, we also explore some of the top new high-tech accessories for business travelers – and it's no surprise that social media-enabled digital cameras, smart watches, and mobile device accessories for smartphones are among some of the best new options available. Be sure to check out the full piece for a complete rundown on all of the above subjects.