CORPORATE SPEAKER FOR MEETINGS AND EVENTS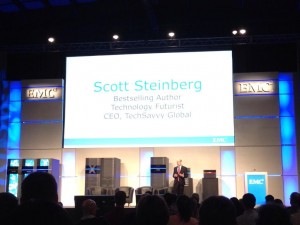 One of the best-known and most dynamic corporate speakers today, bestselling business author and futurist Scott Steinberg provides leading companies and brands with powerful and informative keynote speeches that inspire and motivate teams and organizations. His results-driven, high-impact guest speaking presentations, seminars and training workshops are available for domestic or international corporate events, meetings and conferences.
A strategic innovation consultant to today's biggest firms, as seen in 400+ outlets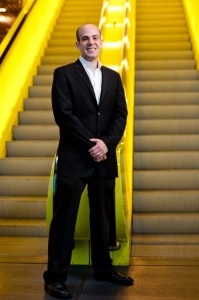 from MSNBC to USA Today, Scott's 10-year track record for accurately predicting business trends and seminal works (including Becoming Essential) are a favorite with corporate audiences worldwide. Designed to foster growth, innovation and leadership, companies and meeting planners engage his services to present keynotes, motivational presentations and breakout sessions that drive results, including:
Building and Maintaining Competitive Advantage
Accelerating Growth and Innovation
Empowering Teams and Individuals
Creating High-Performance Cultures
Facilitating Change Management
Enhancing Leadership and Decision-Making Skills
Boosting  Productivity, Sales and Customer Service
Shaping Powerful Communications Strategy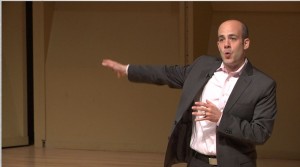 A strategic advisor to Fortune 500 firms, startups and corporations around the globe, his motivational speeches, leadership seminars and corporate training programs can help your organization enhance strategic planning, enable effective change management, and boost both productivity and performance. As a noted entrepreneur and technology futurist celebrated for his ability to make complex concepts simple, his educational and motivational presentations don't just engage management, sales and marketing teams the world over – they also provide immediately actionable advice.
 Areas of Expertise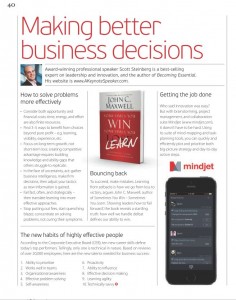 Looking to engage teams on topics ranging from leadership, business management and marketing to sales, social media and communications, or provide insight into the shape of emerging trends and markets? Scott and the team at world-renowned management consulting firm TechSavvy Global will work hand-in-hand with your organization to craft custom keynote presentations that leave audiences on the edge of their seat.
For more information on corporate speaking services, please contact Scott today.
For Additional Information:
Leadership Events | Corporate Keynotes | Innovation Consultants | Social Media Experts | Motivational Speaking | Futurist Consulting | Communications Events | Corporate Training | Technology Workshops
"Of all the so-called gurus out there, Scott is far and away the best! His knowledge, dedication and expertise are the reason that we at Procter & Gamble keep coming back!"
Scott Eisenstein, Procter & Gamble
"Scott's messages about change, culture, innovation, and becoming remarkable provide wisdom from which every company should learn."
Bill Sproull, Metroplex Technology Business Council
"A highly analytical, detailed-oriented consultant and analyst. Scott entered a team in heavy thrash and found a way to drive results, and provide insight, perspective and high value."
Mark Subotnick, Intel Corporation
"Scott is an engaging, knowledgeable speaker who brings a wealth of experience and insider expertise."
Jonathan Block-Verk, PromaxBDA Marketing Association
"One of the best gurus on innovation and competitive advantage strategies to accelerate growth."
DG Enterprise, European Commission
"A great speaker for financial and government audiences… his workshop on finance and online fundraising was well worth attending."
David Drake, Soho Loft Events
"Scott not only delivered a brilliant and extremely well-researched message, but his passion resounded throughout the entire presentation as he energized everyone in the room. From the minute he was introduced, he connected with the audience and both educated and entertained. We look forward to Scott's insights and professional involvement as we continue to develop our entrepreneurial ecosystem here in Tulsa."
Barry Clark, Open Innovation at NSU
"Scott was phenomenal: We were very impressed by not only his content but also his presentation style. The session was fantastic – I suspect his speech will be a frequently downloaded presentation in our webinar archives."
Deborah Kasoff, Consumer Electronics Association
"A polished and professional speaker, Scott's ability to captivate investors and corporate leaders while making complex concepts simple has been of marked benefit to our programs."
Scott Phillips, Coleman Research Group
"Scott Steinberg is a world-renowned pundit on the merits of technology, content and video engagement. His workshop at this year's PR Summit was one of the most attended sessions of the day. I recommend him highly and look forward to working with him on future projects."
Shaun Saunders, PR Summit Conference Series
"Highly recommended…Super sharp, well equipped, adaptable and finely polished, Scott's strategic thinking is second to none: We've enlisted his talents as a speaker on multiple occasions and are constantly begging him to come back.
Steve Fowler, Ayzenberg Group Advertising
"I found Scott to be one of best-informed and insightful analysts I have encountered. He has a wonderful ability to recognize and communicate evolving patterns that are driving the market. Equally important, he expresses his perceptions cogently and clearly, and supports his assessments with specific proof points."
Thomas Ryan, Analyst Strategy Group
"Scott's unique blend of intellect, content depth and presentation style make his presentations insightful, rewarding and entertaining at many levels."
William Paiva, Sevin Rosen Funds
"A great public speaker who knows his topic, is very well connected and is able to connect on a personal level with both audiences and speakers… I'll definitely be working with him again on future events."
Alex Manessi, FC Business Intelligence
"Over the years we've worked with Scott a number of times, both as a speaker and consultant. He's succinct and insightful, his questions are timely and relevant, and he's provided highly valuable insights for us and our clients."
Jim Merrick, Qualcomm
"Scott's expertise and advice made our story go from good to great. When we talk with the press, with investors or with customers, it's absolutely crucial that we have the most effective message possible. Scott ensured that."
Robi Ganguly, Apptentive