BOOKS ABOUT BUSINESS, INNOVATION, MARKETING & TECHNOLOGY TRENDS
CUSTOMER EXPERIENCE (CX): THE ULTIMATE GUIDE

Customer experience (CX) isn't just the ultimate source of competitive advantage today – in tomorrow's increasingly hyper-competitive world, it's everything.
Revealing how to deliver legendary customer service and design can't-miss products, services, and solutions that stand out at a glance, Customer Experience: The Ultimate Guide™ offers a masterclass in practical innovation brought to you by the world's leading business strategist. From brand building to product design, it explains how to put customer experience and a culture of service front and center at your organization – and better connect with, engage, and inspire customers' loyalty at every turn.
From reimagining the shape of customer service and industry-leading products and services to designing can't-miss mobile, social, and online promotions, Customer Experience: The Ultimate Guide shows readers how to:
• Deliver Game-Changing Solutions and Strategies
• Rethink the Shape of Customer Service
• Build Future-Proof and Forward-Thinking Brands
• Engage and Inspire Tomorrow's Audiences
• Design Can't-Miss Advertising and Marketing Campaigns
Inside Customer Experience: The Ultimate Guide, you'll learn how to differentiate yourself at a glimpse, consistently drive positive word-of-mouth uptake, and routinely pioneer new, more effective ways to make a winning impression.
FAST >> FORWARD: HOW TO TURBO-CHARGE BUSINESS, SALES, AND CAREER GROWTH

Discover how to put your business and career on the fast-track to success as the world's leading business strategist reveals how to achieve goals quicker, and get things done in no time flat. Explaining how to breeze past challenges and rack up personal and professional accomplishments at a head-spinning pace, FAST>>FORWARD™ breaks down the simple formula that today's most successful leaders use to complete tasks with less time and expense.
Inside, you'll find the insights that you need to:
Fast-Track Growth and Success
Accelerate Change and Innovation
10X Productivity and Performance
Make Better Business Decisions
Drive Digital Transformation
Strap on your seatbelt, and prepare yourself for a crash course in how to make things happen, as FAST >> FORWARD shows you how to rocket past obstacles, rebound from setbacks, and take your prospects from 0 to 100 in no time flat.
THINK LIKE A FUTURIST: HOW TO PLAN AROUND UNCERTAINTY AND FUTURE-PROOF YOUR BUSINESS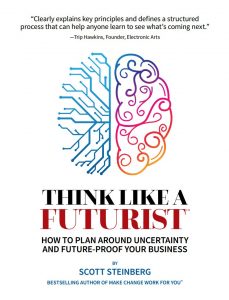 Think quickly – the future is coming on fast!
In Think Like a Futurist™, you'll not only learn how to thrive in an age of constant disruption by embracing a simple, straightforward model that anyone can use to make better decisions. You'll also discover how to consistently get ahead in uncertain times by applying the same skills and strategies that today's top market leaders use to spot opportunities before rivals can react.
Inside, you'll find expert insights, tips, and strategies for how to:
Succeed Despite Uncertainty
Fast-Track Growth and Success
Design Winning Business Solutions
Master the Art of Strategic Planning
10X Productivity and Performance
Packed full of hints, tips, and strategies for boosting your insight and resilience, Think Like a Futurist reminds that a little ingenuity is all it often takes to send your prospects soaring – and see what's coming next around the corner.
MAKE CHANGE WORK FOR YOU: 10 WAYS TO FUTURE-PROOF YOURSELF, FEARLESSLY INNOVATE, AND SUCCEED DESPITE UNCERTAINTY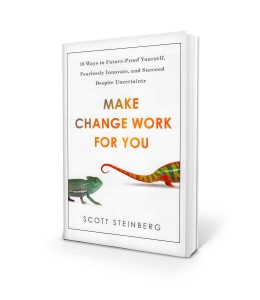 Finding the courage to embrace change and take chances is the only way to succeed.
Business, culture, and competitive landscapes have fundamentally changed, but basic principles and best practices for succeeding and future-proofing both yourself and your organization haven't. With a mix of compelling stories, research from the social sciences and psychology, and real-world insights, Make Change Work for You™ shows  how to reignite your career, rekindle creativity, and fearlessly innovate your way to success by providing the tools needed to master uncertainty and conquer every challenge in life or business.
A new blueprint for success in an increasingly uncertain world, features include:
10 success skills that can ignite your business or career
A revolutionary new system for future-proofing yourself
Proven strategies for unleashing creativity and innovation
The new formula for creating competitive advantage
LEAD WITH YOUR HEART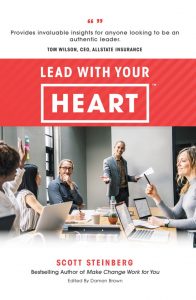 Nice guys finish first in business today. That's because putting people first and building strong, lasting relationships is the secret to success. Want to build the kind of brand that audiences love? Create the type of business that everyone wants to work with? Deliver the kind of customer service that'll have fans raving? Our new book Lead With Your Heart™ – out January 29, 2019 – is an inside guide to designing the company of the future; building products, services, and solutions that clients will adore; and promoting positive change at every level.
Inside, you'll find insights, tips, and strategies for:
Managing and Leading People
Providing Exemplary Customer Service
Building Better User Experiences
Boosting Productivity and Teamwork
Sparking Creativity and Innovation
No matter if you're a market leader or emerging start-up, seasoned executive or new recruit, Lead With Your Heart offers you the tools that you need to succeed in life and business, and build the organization of your dreams – and theirs.
MILLENNIAL MARKETING: BRIDGING THE GENERATION GAP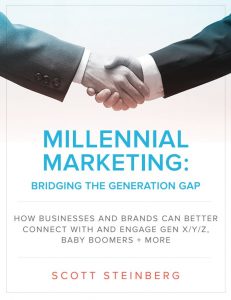 zOMG! Millennials, or Gen Yers – people aged 19-34 – are now America's largest generation, and many quickly becoming parents themselves. Those looking to inspire and motivate these individuals must learn to communicate in vastly different ways than with the generations before.
An expert guide to more effectively connecting and engaging individuals of all ages – including those who've grown up in a 24/7 connected online world – MILLENNIAL MARKETING: Bridging the Generation Gap™ reveals how to communicate and build businesses and brands that resonate in the online and social era.
In MILLENNIAL MARKETING: Bridging the Generation Gap, you'll not only learn how to better engage tomorrow's leaders, but also communicate with and capture the interest of individuals from every generation – including Baby Boomers, Silents and Gen Xers as well.
Inside, research and interviews with the field's leading experts provide must-see hints and tips on how to:
Communicate with Every Generation
Market and Promote in a Digital + Social World
Build Greater Teamwork and Accountability
Train Tomorrow's Leaders
Create Legions of Raving Fans
THE BUSINESS ETIQUETTE BIBLE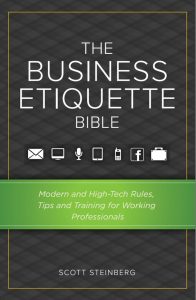 High-tech devices, online apps, and social networks are now essential communications tools for businesses and brands of every size – but what vital rules should you be following when attempting to engage potential clients and customers? And what rules should you be following when job hunting, sharing information online, or interacting with colleagues and employers?
You can find answers to these and other pressing concerns in THE BUSINESS ETIQUETTE BIBLE™ – a definitive guide to effectively communicating on the job and engaging audiences in an increasingly digital and globalized world. A groundbreaking guide to leadership, communications, and modern manners, it shows you how to lead, succeed, and build powerful business relationships in the 21st century – an age of 24/7 online connectivity.
An essential guidebook to modern communications, leadership, marketing, and reputation management, The Business Etiquette Bible offers inside guides and best practices for:
Corporate and Professional Communications

Marketing, Advertising, and PR

Crisis + Online Reputation Management

Social Media, Influencer, and Content Marketing
Managing an Online Reputation

PARENTING HIGH-TECH KIDS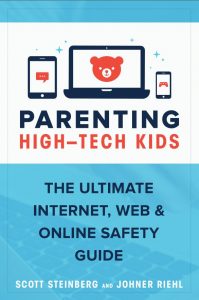 Wake up and smell the silicon: For today's kids, technology is now an everyday part of childhood and household life.
A sweeping guide to the world of online apps, social networks, and high-tech devices, PARENTING HIGH-TECH KIDS™ offers modern families a better approach to teaching kids how to safely connect – and all the hottest new tips, tools, and tricks they need to stay one step ahead of the game.
Covering a comprehensive range of topics from online safety and privacy to social network usage, screen time, and the proper age to put high-tech devices in children's hands, PARENTING HIGH-TECH KIDS not only presents a sweeping look at the world of technology, as seen through the modern family's eyes. It also offers real-world solutions and advice for making technology a more uplifting part of children's lives by providing answers to tough technology questions such as:
How can you keep children safe online and on social networks?
What's the best way to handle high-tech challenges + threats?
How much screen time should children have?
At what age should kids get cell phones?
What can you do to manage your family's online reputation?
Want to teach kids how to be safer online? Give them the education + training they need to succeed in tomorrow's world? Let PARENTING HIGH-TECH KIDS be your guide to the world of high-tech devices, apps, and online technology.
THE MODERN PARENT'S GUIDE TO FACEBOOK AND SOCIAL NETWORKS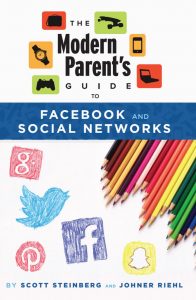 Social networks such as Facebook, Snapchat, and Instagram have completely changed the way that parents and kids share information and interact online. But with so many different new services and features emerging, how can you stay ahead of this ever-changing technology – and keep your family safe in the digital world?
The ultimate guide to navigating today's fast-evolving social media landscape, THE MODERN PARENT'S GUIDE TO FACEBOOK AND SOCIAL NETWORKS™ decodes the world of social networking for today's family – and offers an expert range of hints, tips, and solutions for ensuring that you and your kids can enjoy a safe and positive experience online. Questions answered inside include:
How can you connect with and engage kids on social networks?
At what age should children be connecting to Facebook, Twitter, Instagram, Snapchat, etc?
What information is appropriate to share online?
How to handle threats like cyberbullying, identity theft, and online addiction?
Featured topics include:
Expert Tips and Tricks: How to Keep Kids Safe on Social Networks
Ways to Protect Your Privacy and Identity Online
Comprehensive Guides – Today's Most Popular Social Media Services
Inside Advice: Online Safety, Privacy, Digital Citizenship and More
Addressing Common Threats – Cyberbullying, Harassment, Identity Theft, etc.
How to Manage Your Family's Online Reputation
Want to communicate more effectively with kids? Give them the education and training they need to be safer online? Let THE MODERN PARENT'S GUIDE TO FACEBOOK AND SOCIAL NETWORKS be your guide to the world of social media and technology.
NETIQUETTE ESSENTIALS: NEW RULES FOR MINDING YOUR MANNERS IN A HIGH-TECH WORLD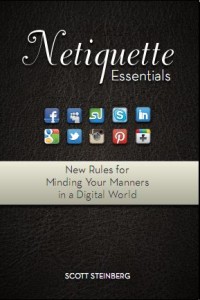 To text or not to text: For modern technology users and working professionals, that is the question. From smartphones to tablet PCs and social networks, technology has changed the shape of personal communications – now, there's finally a guide to modern manners to match.
The first book to codify the new rules of engagement in the age of apps and mobile devices, Netiquette Essentials™ shows everyday individuals, families and executives alike how to more capably and confidently connect. Designed for all ages and experience levels, and divided into three core sections – work, life and kids – this training guide and workbook provides a complete guide to modern manners with regard to blogs, cell phones, e-mail, instant messaging, location-based services and more.
Today's leading online, high-tech and etiquette experts reveal answers to all your burning questions inside, including:
Smartphones: When to use in public and when to turn off?
Social Media: Who to befriend – and what's safe to share?
Business and Careers: How to network – and is it OK to connect with your boss?
Online Relationships: Should you announce romance and breakups?
Kids and Social Networks: Is chatting up your children kosher?
Featured topics include:
Social Networks
Cell Phones, Tablets, Electronics, and Mobile Devices
Email
Blogs, Websites, and Online Newsgroups
Internet and Online Safety
Instant Messaging and Chat Rooms
A must-see blueprint for how to behave in everyday situations to which all high-tech users can relate, don't let innovation continue to pass you by. Read now to find out how, just like hardware and software, we can all benefit from giving personal and professional interactions a number of seriously long-overdue patches and updates.
BECOMING ESSENTIAL: BUILDING GROWTH, VALUE AND COMPETITIVE ADVANTAGE THROUGH STRATEGIC INNOVATION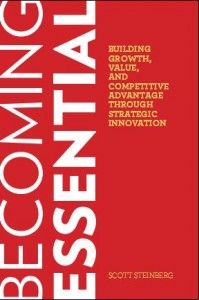 Everything has changed for businesses, brands and working professionals competing in the modern marketplace. A new manifesto for success, this training workbook reveals the crucial leadership and management strategies that both corporate executives and everyday job seekers can implement to survive and thrive in the age of change. Through expert advice and hands-on activities, Becoming Essential™ reveals how to create lasting value, communicate brand equity, and cultivate competitive advantage so strong that you become impossible to replace.
A crucial read for both modern businesses and leaders alike, the volume illustrates how to accelerate change and growth on both the professional and personal level. Through strategic exercises designed to enhance leadership intelligence, insights and decision-making efforts, organizations will learn how to address and maximize the benefits of new innovations – including how to spot and seize upon opportunities before competitors can react.
In a world where abundance, not scarcity, is the fundamental challenge, and everything –  including companies, products and even subject matter experts – is increasingly disposable and commoditized, Becoming Essential reveals how to become invaluable to customers on every level.
 Features Include:
Strategic Innovation Secrets: Enhance Business Intelligence and Decision Making
Cutting-Edge Management Techniques: Learn from Today's Business Leaders
Revolutionary New Models for Planning, Research and Development
Trend, Sales and Market Forecasting Tools for Business
Time Management Solutions for Boosting Team Productivity
Today's Most Innovative Communications, Marketing & Advertising Techniques
THE BUSINESS EXPERT'S GUIDEBOOK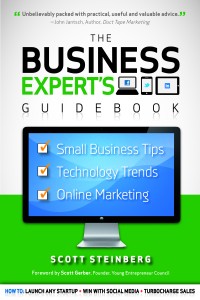 From smartphones and apps to tablet PCs and social networks, technology has changed everything for today's business owner – small or otherwise. But even as advancements including Web applications, social media and cloud computing continue to transform the field, some things remain the same. For resourceful entrepreneurs, startups and small business owners, it's all about the bottom line.
Designed for a new breed of tech-savvy entrepreneurs, startups and local neighborhood merchants alike, The Business Expert's Guidebook™ shows you how to increase ROI, maximize revenue and boost productivity without sacrificing performance, quality or customer service. An insider's how-to guide filled with hints, tips and advice for modern executives of all experience levels, small business expert and entrepreneur Scott Steinberg reveals how to operate on the cutting-edge within.
Covering a full range of topics from marketing and management to leadership, advertising and public relations, The Business Expert's Guidebook reveals how to slash costs and maximize efficiency using today's latest high-tech innovations. As market leaders know, every business – and business plan – can profit from keeping up with the hottest new IT advances. Join us as we reveal how to give yours an upgrade.
Features Include
Best New Business Apps, Gadgets and Online Services
Social Media Secrets: Put Facebook, Twitter and Google+ to Work
Advertising and Public Relations: Strategies for Every Budget
Online Marketing Made Simple: SEO, Mobile/Location-Based Ads and More
IT and Network Security: Prevent Data and Identity Theft
Expert Advice: Crowdsourcing, Cloud Computing and Community Management
Self-Publishing Essentials: Start Your Own Business Overnight
"The one book every entrepreneur should keep handy."
— Gary Shapiro, CEO, Consumer Electronics Association
"A superb resource that provides smart, actionable tips and advice for getting nearly any business off the ground."
— Barbara Corcoran, Star of Shark Tank
"At the same time encyclopedic and amazingly compact: An extraordinary resource for any start-up or well-established business."
— Dick Bolles, Author, What Color is Your Parachute?
"Unbelievably packed with practical, useful and valuable advice."
— John Jantsch, Author, Duct Tape Marketing
"A terrific resource for entrepreneurs hoping to navigate the new media waters."
— David Meerman Scott, Bestselling Author, The New Rules of Marketing and PR
Buy It Now:  Lulu // Amazon //  iBooks // Kindle // Nook   // Kobo
THE CROWDFUNDING BIBLE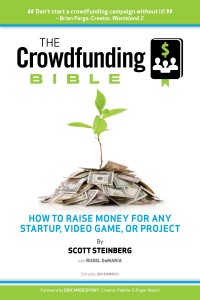 Dream of launching a new product, project or startup? Wish granted! Thanks to crowdfunding, today's hottest form of high-tech investment, suddenly anyone can bring virtually any idea or invention to life with a little help from the Internet.
The world's most comprehensive guide to raising money online, The Crowdfunding Bible™ shows you how to launch, market and successfully operate a high-tech fundraising campaign, regardless of your chosen industry, scope or budget. Built for enterprising entrepreneurs and individuals alike, it reveals the secrets to catching the media and public's eye, and convincing fans to support ventures of all types, in a language that everyone can understand.
From books to films, albums, consumer products, video games and even new fashion lines or public events, learn how to craft compelling pitches, assemble an awe-inspiring promotions strategy, and turn potential backers' heads. Written by successful crowdfunders and investors for a new generation of startups, dive in to discover how a brave new world of venture capital and angel investment is waiting at your fingertips.
Features Include
Best Finance Innovation and Online Fundraising Websites
Complete Guides: How to Start and Promote Any Project
Expert Tips: Crafting Pitches, Rewards and Marketing Programs
Advice from Today's Most Successful Creators and Campaigns
Handbooks to Building Powerful PR and Social Media Strategies
Key Lessons and Takeaways from Top Hits and Failures
Reviews and Post-Mortems: An Inside Look at the Business
"Every entrepreneur thinking about jumping into the wild world of crowdfunding needs to read this."
— J. Jennings Moss, Editor, Portfolio.com
"The ideal reference to help you navigate crowdfunding's increasingly complex waters."
— Tim Stevens, Editor-in-Chief, Engadget
Buy It Now:  Lulu // Amazon //  iBooks // Kindle // Nook // Sony Reader // Kobo
THE MODERN PARENT'S GUIDE: HIGH-TECH PARENTING AND TEACHING TECHNOLOGY TO YOUTH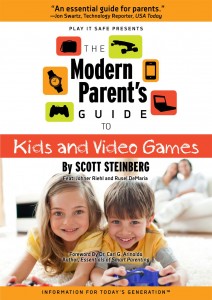 Designed for today's high-tech parent, The Modern Parent's Guide™ is a new series of digital parenting books that offers positive, real-world solutions for managing technology's impact on your family, home and everyday life. Built for a generation of parents and professionals whose children are surrounded by high-tech gadgets, online services and downloadable apps and software wherever they turn, each volume aims to make technology and consumer electronics safe and fun.
Topics Include:
Internet Access, Web Browsing and Online Safety
Apps, Software and Online Services
Social Media and Social Networking
Video Games: PC, Console, Free, MMO and Online
Television Use, Computer Use and Screen Time
Digital Music, Movies and Entertainment
Founded on three guiding principles – education, communication and participation – all advocate that knowledge and understanding are key to helping parents and kids make better, more informed decisions.
"An essential guide for parents."
— John Swartz, Technology Reporter, USA Today
"Should be on the required reading list for any parent."
— Patricia Vance, President, ESRB
Buy It Now:  Lulu // Amazon //  iBooks // Kindle // Nook // Sony Reader // Kobo