KEYNOTE SPEAKING TESTIMONIALS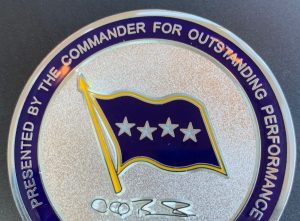 Awarded for Outstanding Performance by Four-Star General
Keynote Speech Review by Northeastern State University (PDF)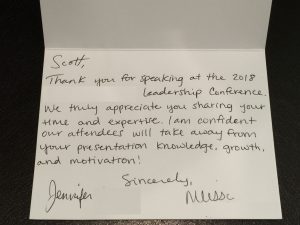 Association Partner Review
"Scott's speech was an eye-opener for EMC. Insights from his talk, specifically his comments on how to build and foster an innovative culture, and research he covered regarding game-changing innovation in large enterprises, enabled us to spark change and innovation on a global scale. As a keynote speaker for thousands of EMC employees, customers, and partners, and in intimate conversations with top executives, Scott was a dynamo. I highly recommend him to any company interested in building innovative culture, disruptive problem-solving approaches or positive change in their organization."
Calvin Smith, Principal Manager, Global Innovation & Marketing, Dell EMC
"In a world of progressive, emerging technologies and automation, Scott's speech couldn't have been timelier. He understood the nuances of our industry and tailored the talk perfectly. Scott was a pleasure to work with and we would recommend him wholeheartedly to anyone searching for a vibrant and thoughtful speaker."
Debi Hamill, CEO, International Association of Outsourcing Professionals

"Scott delivered an inspiring keynote session on 'Innovation in the New Era of Smart' at the IBM BusinessConnect event in Dubai. His speech was thought provoking, coherent and succinct , backed by real world innovation examples from his consulting experience. It was one of the best sessions that I have ever attended, and he held the audience engaged throughout his session. I highly recommend Scott for key note sessions on Innovation and Business Strategy."
Logan Vadivelu, Worldwide Smarter Process Solutions Leader, IBM
"With over a hundred Russian agency and marketing executives attending, Scott's Leading with Innovation presentation at our Microsoft Advertising event in Moscow provided pertinent insight into the challenges facing one of the fastest-changing industries out there: online advertising. Drawing on a wealth of case examples and industry research, Scott's arguments underpinning the need to espouse the mantra of innovation in business hit the mark. With a high level of energy, pace and a healthy dose of good humor, Scott captured the audience's attention and helped contribute to a really rewarding event. We're already planning the next one…"
Bela Papp, Microsoft Advertising CEE & MEA

"Scott is a polished speaker with the ability to inspire leaders and help them connect innovative ideas with practical business solutions that they can implement into their operations to drive immediate change and growth."
Jason Barnhart, Director of Prof. Development, Public Relations Society of America

We invited Scott to participate in a high profile management training course at our company. His involvement included contributing to the development of the content as well as delivering his message on video. The outcome was spot-on – not only by infusing his brand of knowledge and expertise but by energizing and challenging the participants. His messaging was relevant and relatable. Aside from this, he is one of the most professional and easy to work with collaborators I have ever dealt with.
 Sr. Producer, OptumRx
Best session so far…. It was insightful and encouraged action [combined] with practical advice. I very much appreciated the multiple tips to help exercise judgment on organizations' current state and questions to ask directly of boards/employees. It offered informative, tangible takeaways. Fabulous – 4.9 out of 5 stars!
National Association of Corporate Directors
"An expert speaker and facilitator of executive board retreats, Scott comes highly recommended for senior leadership events and programs. His high-impact, high-energy presentations offer a wealth of ideas, inspiration and insights…"
Dr. DeWayne McCamish, President, American Association of Orthodontists
"Scott did a fantastic job encouraging our company's business leaders excitement and curiosity in changing technologies. His message was perfectly on point."
Tom Bauer, CIO, Hagerty

"Scott was a dynamic, to-the-point speaker. His real world examples of how companies can innovate in small, yet impactful ways, was refreshing and well-timed. In the field of corrections, we often are stymied by the daunting path of system reform. After hearing Scott speak, many of our staff began to rethink the go big or stay home approach and began to brainstorm small, innovative ways to improve the criminal justice system."
Dr. Brian Lovins, Harris County CSCD and American Probation & Parole Association
"Scott spoke and was a tremendous success! His wealth of professional experiences translated into truly engaging stories that helped apply the rich content of his book into practical, useful and actionable steps. Participants thoroughly enjoyed Scott's warm and engaging personality, along with the tools he recommends for overcoming fear and effectively competing in today's ever-changing work environments.""
Lawrence Chomicki Jr., Treasurer, Association of Change Management Professionals
"I wholeheartedly recommend Scott as a speaker and presenter. He recently gave a keynote address and received high marks from the audience, and brought home to them the importance of creating a culture to implement change. He was easy to work with in developing content, able to build his presentation to fit our audience, professional, and engaging."
 Liz Whitney, Senior Manager, Education & Meetings, International Warehouse Logistics Association
"Scott is a top-notch thinker, strategist, and advisor. After just a brief conversation about potential applications to the nonprofit sphere, I left with a toolbox of strategies to test and new ways of thinking. Scott is very insightful, down-to-earth, and clearly passionate about what he does."
Kristin Boehne, Manager Strategic Projects, United Way

"Scott delivers a clear and succinct study of industry trends and winning company cultures. His strengths are that he delivers "in the moment" information and examples of pertinent industry issues that resonate well with the audience. I expect to see Scott back at LifeNet Health talking at our various company forums."
Rony Thomas, President & CEO, LifeNet Health
Scott's session was very well-received by our attendees. He was our closing keynote speaker and his motivational message about driving change through innovation and growth was a perfect way to end a successful event!
California Bankers Association

"Scott is a fantastic speaker. He energizes the audience and he is relevant with his message."
RD Whitney, Executive Director, The Institute of Finance and Management

"Scott helped create real understanding about how to become more innovative and rapidly responsive to new ideas and change. There was great engagement with the attendees, and his panel facilitation with the panel helped to drive the message home. Overall a big win for everyone in attendance."
Ron Apel, CEO, Ex-Sell Sales & Merchandising Canada

"It was a great opportunity to invite Scott to the Singapore Parenting Congress 2014 as a keynote speaker. His dynamic presence at our congress led the audience to leave with highly valuable knowledge on how to parent high-tech kids of the digital age today. Through his wondrous presentation, he shared insightful tips on how parents could bridge the gap between their teens and themselves, moving beyond a constant focus on short-term goals to empower them with confidence to take on various measures to enrich their families' lives to be a more fulfilling experience. Truly, Scott is a gem that we were privileged to have grace our congress."
Janet Teo, MediaCorp Radio Division

"Scott delivered a thought provoking, dynamic address on the importance of innovation in an increasingly competitive world. Backed up by solid research, he made the digital world simple, and provided thought leadership on how to drive your business forward."
David Fowler, Canadian Internet Registration Authority

"Of all the so-called gurus out there, Scott is far and away the best! His knowledge, dedication and expertise are the reason that we at Procter & Gamble keep coming back!"
Scott Eisenstein, Procter & Gamble
"One of the best gurus on innovation and competitive advantage strategies to accelerate growth."
DG Enterprise, European Commission
Scott is an engaging and energizing speaker. He uses tangible examples to illustrate his insights and make them come alive for the audience.
Beth Hernandez-Casey, ReSource Pro (Insurance Operations)

"Scott is a well-known expert and prolific speaker capable of effortlessly delivering messages on target.  His unique talents proved invaluable to our project and we are eager to work with him again."
Ranson Burkette, ESET
"I heard Scott speak at a business event and had to buy his book not only for my staff but all the companies in the UTD Venture Development Lab. It's a must-read for anyone who wants to become relevant."
Dee Anderson, University of Texas at Dallas
"As the Keynote Speaker for Literacy and Learning Day 2013 in Edmonton, Alberta, Scott was knowledgeable, entertaining and so very easy to work with! Participants really appreciated Scott's ability to share his knowledge in an easy to understand and engaging manner."
Wendy Keiver, Literacy and Learning Day Society of Edmonton, Canada

"Great content! Very thought provoking… Enjoyed the presentation and valued the content [which had] great, crisp informative takeaways. A really exciting session – overall speaker quality: 4.8 out of 5 stars."
National Association of Corporate Directors
"Genuinely inspiring and practically applicable… Scott's key note address to a primarily technical conference radically expanded the whole question of what innovation is really all about.
Phil Hinton, Director & Industry Group Manager, Chemox Pound Ltd.
A first-rate speaker: Scott is a dynamic speaker who delivered a thought provoking session at InfoComm.  I would recommend him for a variety of audiences.
Eric Suger, Manager – IT Strategy, MicroTek
"Not only is Scott a knowledgeable, go-to technology expert, but he is also a PR pro's jack-of-all-trades! Thanks to his assistance, we were able to conduct a very productive and incredibly valuable consumer event for my client. I look forward to working with him again soon!"
Lisa M. Rigney, Ogilvy Public Relations
"Scott's talk was the highlight of the six-week event! He gave concrete, actionable examples for our students, was an absolute pleasure to work with and I highly recommend him as a teacher and speaker!"
Gretchen VanEsselstyn, MediaBistro
"A great speaker for financial and government audiences… his workshop on finance and online fundraising was well worth attending."
David Drake, Soho Loft Events
Scott does a fantastic job of staying tuned to the ever-changing technology landscape.  As a young father with real skin in the game, he connected with many of our parents and teachers and has them seeing things in a different light.
Daniel R. Scherry, Superintendent, North Spencer County School Corporation
"A highly analytical, detailed-oriented consultant and analyst. Scott entered a team in heavy thrash and found a way to drive results, and provide insight, perspective and high value."
Mark Subotnick, Intel Corporation

"In addition to being a dynamic and engaging speaker, Scott's insights into coming trends, and how to stay ahead of them, are impeccable – associations and businesses of every size would do well to heed them. A tremendous speaker who's capable of engaging and entertaining audiences of every background, including business and association leaders of every field – Scott's presentations are a must-see for leaders at every level."
Harriet Levine, Founder and President, Stuart Levine & Associates and EduLeader
"Scott was a great chairman for our Cloud Conference and led the audience through a highly insightful and relevant discussion throughout the two-day agenda. He's professional, accurate and a real pleasure to work with."
Ravi Virpal, FC Business Intelligence
"Scott is an engaging, knowledgeable speaker who brings a wealth of experience and insider expertise."
Jonathan Block-Verk, PromaxBDA Marketing Association
"Scott was phenomenal: We were very impressed by not only his content but also his presentation style. The session was fantastic – I suspect his speech will be a frequently downloaded presentation in our webinar archives."
Deborah Kasoff, Consumer Electronics Association
"Scott's expertise makes him a valuable asset and innovative marketer.  His passion and talents show through when brainstorming, creating plans, and strategically putting the pieces together when solving client issues. Scott is a go-getter, detail oriented, dedicated team player and valuable resource.  With technology changing every day, Scott is used to working in a fast-paced environment and always remains calm under pressure.  Scott goes the extra mile to ensure the best quality product is delivered while consistently exceeding expectations.   Working with Scott always garners success!"
 Julie Ellman, Partner and SVP, Connect360 Multimedia
"A polished and professional speaker, Scott's ability to captivate investors and corporate leaders while making complex concepts simple has been of marked benefit to our programs."
Scott Phillips, Coleman Research Group
"Having Scott Steinberg headline our conference turned out to be the best decision we could have possibly made for the kickoff of our 2012 Global Entrepreneurship week activities."
Partnership Center, Northeastern State University
"Scott's messages about change, culture, innovation, and becoming remarkable provide wisdom from which every company should learn."
Bill Sproull, Metroplex Technology Business Council
"Scott offered a thought-provoking perspective on what every business can learn from technology companies, regardless of industry or niche."
Cheryl Martel, National Association of Corporate Directors
"Scott delivered an inspiring keynote address at our strategic retreat. The combination of theory and life experiences he presented, coupled with industry examples, delivered a powerful message that stimulated much thought and discussion from our leadership. I highly recommend him and look forward to working with him on future projects."
Alan Bornick, Chief Human Resources Officer, LifeNet Health
"A first-rate speaker: Scott's ability to communicate clear, powerful  and inspiring messages to live audiences is unmatched – it's no wonder both business and consumer event producers consider him a first port of call.
Ed Tropeano, Newswatch TV
"Scott Steinberg is a world-renowned pundit on the merits of technology, content and video engagement. His workshop at this year's PR Summit was one of the most attended sessions of the day. I recommend him highly and look forward to working with him on future projects."
Shaun Saunders, PR Summit Conference Series
"I really appreciated Scott's point of view – he pointed out that innovation is the key, and to be successful, we should disrupt ourselves before our competitors do."
Jean-Marc Barki – President, Sealock  / Past-President FEICA Association
"Scott's unique expertise is wide and deep: He has a gift for making complex ideas easily understood. His presentations always offer valuable insight for audiences of all backgrounds and experience levels."
Ian Kelso, Canadian Interactive Alliance
"Scott not only delivered a brilliant and extremely well-researched message, but his passion resounded throughout the entire presentation as he energized everyone in the room. From the minute he was introduced, he connected with the audience and both educated and entertained."
Barry Clark, Open Innovation at NSU
"Tremendously entertaining and insightful, Scott's keynote speaking presentations consistently keep audiences on the edge of their seat. Among the most popular speakers at our events and workshops, trade associations, organizations, and meeting planners would do well to keep his number on hand."
Kristina Hudson, Washington Interactive Network
"Highly recommended…Super sharp, well equipped, adaptable and finely polished, Scott's strategic thinking is second to none: We've enlisted his talents as a speaker on multiple occasions and are constantly begging him to come back.
Steve Fowler, Ayzenberg Group Advertising
"I found Scott to be one of best-informed and insightful analysts I have encountered. He has a wonderful ability to recognize and communicate evolving patterns that are driving the market. Equally important, he expresses his perceptions cogently and clearly, and supports his assessments with specific proof points."
Thomas Ryan, Analyst Strategy Group
"Scott understands both the entrepreneurial mindset and new media. He was invaluable for our discussion on raising early capital for new entrepreneurs, providing sharp assessments, data and trends that made us all feel more informed and ready to compete in the marketplace."
Lauren Brookey, Vice President of External Affairs, Tulsa Community College
"Scott's unique blend of intellect, content depth and presentation style make his presentations insightful, rewarding and entertaining at many levels."
William Paiva, Sevin Rosen Funds
"Scott is a dynamic speaker and business thought leader whose workshops and training sessions have proven their worth for both me and my teams – I recommend him for a variety of audiences from interns to senior execs.
Corey Rosemond, Plantronics
"Colleges, high schools and middle schools should keep Scott's number handy: Teachers and educational institutes will find that his speeches, seminars and training programs offer powerful insights."
Dr. Christopher Erhardt, Academy of Interactive Entertainment US Campus
"It's always a pleasure working with Scott. His speeches and presentations not only deliver powerful insight for business and consumer leaders, they also deliver massive value and takeaway for organizations of every kind."
Asante Bradford, Georgia Department of Economic Development
"Scott has provided expert commentary in recent years on technology trends regarding the Internet, Web, gadgets and games – he knows his stuff, and is a real pro."
Mike Snider, USA Today
"A great public speaker who knows his topic, is very well connected and is able to connect on a personal level with both audiences and speakers… I'll definitely be working with him again on future events."
Alex Manessi, FC Business Intelligence
"Over the years we've worked with Scott a number of times, both as a speaker and consultant. He's succinct and insightful, his questions are timely and relevant, and he's provided highly valuable insights for us and our clients."
Jim Merrick, Qualcomm
"Engaging. Relevant. Actionable. Scott's unique understanding of products and process combined with his acute eye for marketing provides high educational value. You'll be inspired and informed to build competitive advantage."
Grant Wickes, Wasp Barcode Tech
"Scott's a dynamic speaker and business thought leader whose presentations, workshops and training sessions are well worth attending, even for the most seasoned of executive. He's also a trustworthy consultant to senior management who provides solid insight and actionable advice."
Jared Nieuwenhuis, Her Interactive
"An erudite and expert voice… I've looked to Scott for smart commentary frequently, as he always delivers. I consider him one of the most trustworthy sources in my tenure as a journalist – work with him and expect canny results."
Matthew Kirdahy, Forbes
"Scott's expertise and advice made our story go from good to great. When we talk with the press, with investors or with customers, it's absolutely crucial that we have the most effective message possible. Scott ensured that."
Robi Ganguly, Apptentive