FUTURIST, TREND FORECASTER AND STRATEGIC INNOVATION EXPERT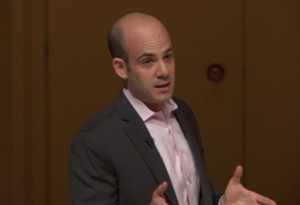 The only thing modern leaders and management teams can count on today is change – suddenly, rapid innovation, strategic decision-making and creative resource deployment are mandatory survival skills. As one of the world's best-known futurist speakers, technology analyst and #1 bestselling author Scott Steinberg's keynote speaking presentations, seminars and workshops show how to leverage change to drive innovation and organizational growth.
Hailed by hundreds of media outlets from CNN to BusinessWeek and Rolling Stone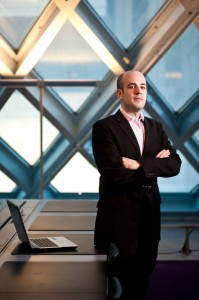 for his ability to accurately predict the business, social, consumer and technology trends that shape our future, he's a strategic advisor to dozens of market-leading businesses and brands who helps partners cultivate value and competitive advantage on the back of emerging opportunities. Customized key note guest speeches are crafted for all audiences, and show individuals, teams and companies of every size how to adapt to shifting markets and trends. From empowering organizations to create new products, businesses and services to enhancing processes, communications and strategic planning initiatives, his training programs and workshops train organizations to spot and react to rising opportunities before competitors can react.
 KEYNOTE GUEST SPEAKING: SEE TOMORROW TODAY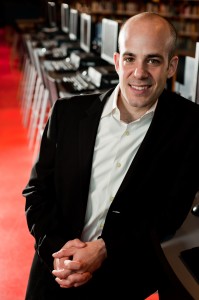 Looking to reinvent products, processes and perceptions, or empower your team with the foresight to recognize and capitalize on emerging consumer, business and technology trends? Consider booking this popular futurist speaker today, and see clients rave about featured programs, seminars and workshops' ability to drive results including:
Fostering High-Performance Cultures
Boosting Strategic Growth and Innovation
Spotting and Reacting to Emerging Opportunities
Recognizing and Meeting Changing Customer Needs
Adapting Products, Business and Brands to New Spaces
Building and Maintaining Competitive Advantage
Empowering Teams and Individuals
Enhancing Leadership and Decision-Making Skills
In addition to individual custom-tailored programs, featured keynote topics include:
Seeing Farther: Charting Your Organization's Future
Tomorrow's Trends Today: 2020 and Beyond
Change is the New Certain – The Evolution of Industry
Strategic Planning 2.0 – The New Roadmap to Success
Marketing, PR and Sales Reinvented
Healthcare and the Changing Medical Industry
Get Smart: The Future of Education
Shifting Generations, Changing Consumers
Contact top technology futurist keynote speaker Scott Steinberg now to discuss your next event.
About Scott Steinberg
World-famous for 10+ years of accurately predicting business and technology trends and their impact on the consumer and commercial worlds: Seen by 1 billion people worldwide.
Author of nine books, including bestseller The Crowdfunding Bible and TheBusiness Expert's Guidebook, hailed by industry leaders as "the one book every entrepreneur should keep handy."
Featured in 600+ outlets from NPR to The Wall St. Journal; expert columnist on change and innovation for CNN, Inc., Fast Company, The Huffington Post and Rolling Stone.
Strategic advisor to leaders from Fortune 500 businesses and brands, including Microsoft, Sony, Intel, ESPN and MTV.
Proven entrepreneur noted for building profitable startups and divisions: Hailed as leading authority from BusinessWeek to Forbes and USA Today.
For Additional Information:
Strategic Innovation Speaker | Futurist Consultants | Management Keynotes
Testimonials
"One of the best gurus on innovation and competitive advantage strategies to accelerate growth."
DG Enterprise, European Commission
"Scott's messages about change, culture, innovation, and becoming remarkable provide wisdom from which every company should learn."
Bill Sproull, Metroplex Technology Business Council
"Scott's talk was the highlight of the six-week event! He gave concrete, actionable examples for our students, was an absolute pleasure to work with and I highly recommend him as a teacher and speaker!"
Gretchen VanEsselstyn, MediaBistro
"It's always a pleasure working with Scott. His speeches and presentations not only deliver powerful insight for business and consumer leaders, they also deliver massive value and takeaway for organizations of every kind."
Asante Bradford, Georgia Department of Economic Development
"Scott's unique expertise is wide and deep: He has a gift for making complex ideas easily understood. His presentations always offer valuable insight for audiences of all backgrounds and experience levels."
Ian Kelso, Canadian Interactive Alliance
"I found Scott to be one of best-informed and insightful analysts I have encountered. He has a wonderful ability to recognize and communicate evolving patterns that are driving the market. Equally important, he expresses his perceptions cogently and clearly, and supports his assessments with specific proof points."
Thomas Ryan, Analyst Strategy Group
"Scott understands both the entrepreneurial mindset and new media. He was invaluable for our discussion on raising early capital for new entrepreneurs, providing sharp assessments, data and trends that made us all feel more informed and ready to compete in the marketplace."
Lauren Brookey, Vice President of External Affairs, Tulsa Community College
"Scott's unique blend of intellect, content depth and presentation style make his presentations insightful, rewarding and entertaining at many levels."
William Paiva, Sevin Rosen Funds
"A first-rate speaker: Scott's ability to communicate clear, powerful and inspiring messages to live audiences is unmatched – it's no wonder both business and consumer event producers consider him a first port of call."
Ed Tropeano, Newswatch TV
"Scott's a dynamic speaker and business thought leader whose presentations, workshops and training sessions are well worth attending, even for the most seasoned of executive. He's also a trustworthy consultant to senior management who provides solid insight and actionable advice."
Jared Nieuwenhuis, Her Interactive