How can you build the kind of business that people love showing up to work at every day? Create a more welcoming and productive workplace? Champion a corporate culture that prizes diversity and teamwork?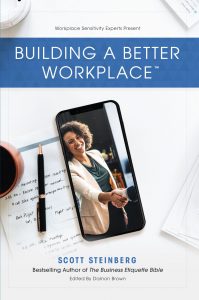 Our new book Building a Better Workplace – out October 16, 2008 – answers these questions and more, providing new rules for creating a corporate culture of empowerment and success, and best practices for marketing, advertising, and communicating in the connected age. A definitive guide to modern-day leadership, it offers inside guides and best practices for:
Managing + Leading People
Recruiting + Retaining Top Talent
Improving Productivity + Performance
Promoting Teamwork + Empathy
Providing Superior Customer Service
Running Amazing Marketing and PR Campaigns
 Want to drive positive change? Promote greater teamwork? Boost empathy throughout your entire organization? Building a Better Workplace reveals how organizations of every size can lead more effectively – and build a business that everyone will adore. Hope you enjoy it!