Innovation speaker Scott Steinberg can help your organization gain the skills and insights it needs to lead, stay ahead of the curve, and succeed – as well as make any event or meeting an occasion to remember. Hailed as a master of innovation by the world's largest technology firms and media outlets, his high-energy, high-impact keynote speeches, workshops, and seminars provide strategies which can be enabled to drive business growth, adapt to changing times, and successfully lead in the world of tomorrow.
With top innovation speaker Steinberg's help, you can: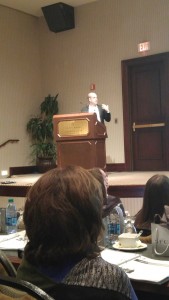 Accelerate Growth and Innovation
Enhance Leadership and Decision-Making Skills
Spot and Adapt to New Trends
Improve Technology Strategy and IT Solutions
Create Sources of Competitive Advantage
By participating in one of his classes, seminars, breakout sessions, or keynote speaking presentations, Steinberg provides an innovation speaker for you whose programs can ignite solutions for organizations of any size, from implementing forward-thinking approaches to leadership and change management to driving strategic innovation and accelerating growth. The author of top bestseller Make Change Work for You, Fortune magazine's Master of Innovation, and one of the world's 150 most influential speakers, you'll soon discover why the world's biggest brands and businesses recommend him for meetings, think tanks, trade shows, executive summits, and other events on an ongoing basis.
His programs can help your organization or business to:
Drive Breakthrough Innovation and Discoveries
Create High-Performance Cultures
Build and Maintain Competitive Advantage
Empower Teams and Individuals
Foster Change, Growth and Diversity
His keynotes feature a potent combination of informative, inspirational, and motivational insights while providing research, case studies, and real-world insight. Interested in booking innovation speaker Steinberg for a meeting or event? Don't hesitate; please reach out today.
For more information on etiquette classes and training services, please contact us today.
Known throughout the world by way of such outlets as The New York Times and CNN and hailed as a prime authority by the Associated Press, Business Week, and Forbes, Steinberg is an innovation speaker known to over one billion people who have paid heed to his advice and experience.  For more than a decade, such companies as Microsoft, AT&T, Kmart, Harley Davidson, LG Electronics, and more have given their attention to these innovation speaking presentations, seminars, and workshops that have both engaged and entertained their professionals, with each institution reaping the power of the inspired results therein.