Being both a marketing speaker who covers advertising, social media and public relations (PR) trends and strategy, as well as a marketing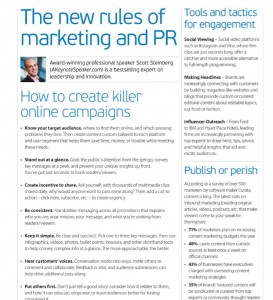 agency owner and entrepreneur, you can imagine that getting to provide top corporate and non-profit organizations with keynotes, workshops and master classes for meetings and events is one of the most treasured job perks we enjoy. (Who wouldn't love the chance to hear from and work with scores of talented professionals, who never cease to amaze us with all the inspiring stories and eye-opening insights they have to share?) But another great perk is the opportunity to share expert advice, tips and hints via bestselling books and syndicated columns, helping us share tools and training with millions of readers worldwide. Recently, as part of our running series of columns for Oryx magazine, we were asked as a marketing speaker to provide audiences with a guide to The New Rules of Marketing and PR – one which we're delighted to share with you today.
Topics we cover in the feature include:
How to Better Locate, Understand, and Speak to Audiences Online
Ways to Get More from Every Content Marketing or Inbound Marketing Campaign
Creating Winning Social Media and Influencer Marketing Strategies
Building Business and Brands that Stand Out at a Glance
How to Work with Press/Media, Blogs, Magazines, Newspapers and TV/Radio Outlets
Hints, Tips and Expert Advice for Making Headlines
Best Practices for Building Video and Online Campaigns
Available free online at www.oryxinflightmagazine.com, you can check out the complete tip sheet in the magazine's April issue, which also offers a look at how businesses and brands are using the power of content marketing, custom publishing and online websites to reach both business-to-business and consumer audiences. A quick and insightful read, The New Rules of Marketing and PR should provide excellent food for thought, and some immediately actionable tips for giving your strategies an upgrade.