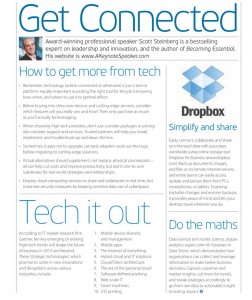 As a leadership training pro, futurist and keynote presenter for meetings, executive workshops and corporate retreats, frequent readers and tradeshow attendees may be aware that we regularly share leadership insights, and thoughts on business management and innovation, in the form of a running column for Qatar's Oryx magazine. In a recent issue, for example, we explored the topic of technology trends (a commonly requested topic of coverage at our leadership training programs), as well as new developments CIOs and others in the IT field should be aware of, including how executives in every industry can better leverage the power of emerging tools and innovations to manage an enterprise or organization.
As you might imagine, some of the key tech topics leadership training workshops and retreats should be addressing include:
Mobile Devices and Online Apps
Cloud Computing: Hybrid and Personal
The Internet of Everything
Smart Devices
Flexible Infrastructure and Communications Solutions
Software As Corporate Identity
Big Data and Analytics
Likewise, a few key tips you should keep in mind when weighing or applying new technologies include:
Knowing how to best use, operate or leverage technology tools before investing in them – the most feature-laden solutions aren't always the most practical.
Only pay for as much technology as you plan to tap into.
Look for IT partners who'll provide world-class support to go along with world-class solutions.
Don't always dive headfirst into new technologies and solutions – sometimes, it pays to wait and see how new changes in the software, platform, tool or even industry, and let others do the early beta testing (and contend with early bugs) for you.
Think about not just how to utilize technology, but also how to best integrate it into your business, so it becomes a facilitator of, not barrier to, innovation.
For more leadership training and technology trend insights, please check out the article. We've provided a quick snapshot here for your feedback and enjoyment, but you can find the full piece at www.oryxinflightmagazine.com.