If you're in need of a business etiquette expert, then look no further than Scott Steinberg to help your organization discover more effective ways to communicate, lead, and succeed. From online courses to in-person seminars and courses in between, he can help you create an event to remember – and provide all the insights and tools that your organization needs to enhance teamwork, boost productivity, and stay ahead of the curve. His high-impact, high-energy lessons will infuse employees with new purpose and elevate their communication skills to an entirely new level.
Partner with Steinberg, and you're not only getting a business etiquette expert, but you're getting one of the originators who perfected the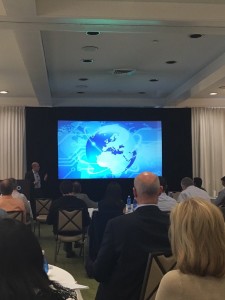 art form with his easy-to-follow rules and guidelines that are applicable to any sort of workplace, from digital to real-world professional environments.
With Steinberg's help, you'll be able to:
Increase Productivity and Improve Interpersonal Skills
Improve Leadership, Teamwork and Communication
Communicate More Effectively In-person, or Via Online and Social Media
Communicate More Effectively with Customers and Colleagues » Enhance Workplace Productivity and Performance
By taking part in one of his training seminars, you'll gain access to everything you need to build stronger bonds between executives, teams, customers, and colleagues, and create a greater sense of cohesion in the workplace – all while learning how to communicate more effectively all the while.
Not only is Steinberg recognized as one of the 150 most influential speakers in the world today, but he is also known well as the author of both The Business Etiquette Bible and Netiquette Essentials. His programs can help your organization:
Build Stronger Empathy for Businesses and Brands
Establish Stronger Bonds Between Working Professionals
Improve Marketing, Public Relations (PR) and Sales Strategies
Create Cultures of Trust and Collaboration
Access International Business Etiquette and Media Training
With insights ranging from the motivational to the inspirational, Steinberg's keynotes are a recipe for success by mixing real-world insight, case studies, and research into an informative mix of achievement and triumph, yours for the taking. If you're interested in booking business etiquette expert Steinberg for a key note speech, an online or offline teaching event, or even if you'd just like to connect with the number-one name in business etiquette, then feel free to reach out right now.
For more information on business etiquette expert services, please contact us today.