Meeting planners and special event planning professionals have a great job: They get to plan special occasions that bring smiles to audiences' faces, and educate tomorrow's leaders as well. But they also have a challenge job as well, between booking keynote speakers, managing content tracks, and handling logistics for dozens, or even hundreds of thousands, of attendees. In the interest in helping some of our friends on the CMP side, as well as working professionals tasked with planning executive summits and retreats, we put together a number of tips for Oryx in-flight magazine that can help save you time and trouble when bringing special events together.
In the piece, we run down a number of helpful tools for planning meetings and events, including a number of free and paid apps which you can download or access online, such as Cvent and Eventbrite. In addition, we take a look at top destinations and cities where professi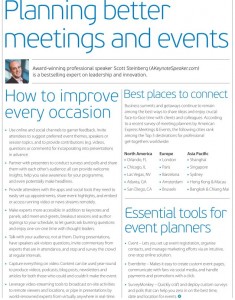 it's best to schedule meetings to take place: As you might imagine, from Florida to California and various locations in Europe and Asia, there are plenty of great options for every getaway or corporate retreat. Of course, it just wouldn't be a proper meeting planning guide without a few tips from how to get more from your event. A few sample tips include:
Using social media to get hints, tips and even photos or videos from attendees when planning programs that you can incorporate into the event
Planning breakout sessions, workshops and meet and greets where audiences can get one on one time with keynote speakers, thought leaders and top experts
Getting audiences involved in speaking or panel sessions by soliciting comments and feedback, and taking polls and surveys right there on-site
Capturing talks and training sessions for use in later newsletters, education programs or content marketing efforts
To get the full scoop, visit www.oryxinflightmagazine.com and check out the June issue, available for download now.