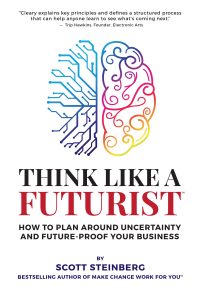 Think quickly – the future is coming on fast!
In Think Like a Futurist, you'll not only learn how to thrive in an age of constant disruption by embracing a simple, straightforward model that anyone can use to make better decisions. You'll also discover how to consistently get ahead in uncertain times by applying the same skills and strategies that today's top market leaders use to spot opportunities before rivals can react.
A crash course in how to innovate and future-proof your business or career, Think Like a Futurist explains what it takes to successfully adapt, whatever tomorrow brings. From forward-thinking ways to redesign leadership and go-to-market strategies to cutting-edge insights on workplace trends and business solutions, it reveals how you can stay one-step ahead of tomorrow's marketplace – and one step ahead of the curve.
Inside, you'll find insights, tips, and strategies for how to:
Succeed Despite Uncertainty
Fast-Track Growth and Success
Design Winning Business Solutions
Master the Art of Strategic Planning
10X Productivity and Performance
Packed full of hints, tips, and strategies for boosting your insight and resilience, Think Like a Futurist reminds that a little ingenuity is all it often takes to send your prospects soaring – and see what's coming next around the corner.
"Clearly explains key principles and defines a structured process that can help anyone learn to see what's coming next."
– Trip Hawkins, Founder, Electronic Arts