Customer service speakers have the best job in the world: Whether providing keynotes, training courses or master classes at meetings and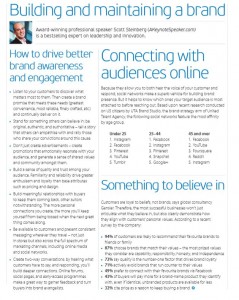 events, or conducting market research in partnership with businesses and brands, we get to partner with leading professionals to help people find better ways to connect with one another, and create win-win scenarios. That's a beautiful thing, especially as we get the chance to constantly connect with so many customers, who are always happy to share moving tales and insights into how great customer service made all the difference for them, and how it can constantly be improved in ways to further benefit those we as businesses work to serve. Naturally, we were both surprised and honored when we were asked as customer service speakers by Oryx Magazine to put together a column compiling the key expert hints, tips and advice we've gained over the years into the topic for sharing with their readers.
In the clip, titled Building and Maintaining a Brand, we illustrate how businesses can better connect with shoppers and general audiences online, and which platforms to use to create more productive exchanges, and provide deeper insight into customers' motivations as they go about traveling through their decision or purchase journey. In addition, we also explore key strategies for driving better brand engagement and awareness, and being more successful when it comes to launching marketing, advertising and public relations (PR) campaigns. You may be surprised to discover just how customers think, and what it means to provide superior customer service to them, given the new tools, technology, and data suddenly available at one's fingertips. For convenience's sake, we've put together a snapshot overview of the article here.
For the full rundown of the clip, which we hope will provide some helpful information as you go about training your workforce in and deploying successful customer service strategy programs, please visit www.oryxinflightmagazine.com.