In addition to providing keynote speeches for audiences of up to 60,000, Scott frequently holds leadership meetings and events with CEOs, CTOs, CIOs and other senior management members to determine how their business best can change, innovate, and drive added ROI and value.
These executive retreats and team activities often focus on new business or consumer trends and technology, and how to build competitive advantage and growth strategy around them. Providing a futurist's insight into emerging markets, or developing new change management, talent management or marketing and customer outreach programs, Scott's panel discussions, workshops and full- or half-day programs are designed to help leadership teams stay ahead of the curve.
Each presentation is customized to senior management's needs, and is built to help leaders effect positive, lasting change in their organization. These breakout sessions and master classes can help your enterprise:
Establish a culture of successful change management and innovation
Cultivate tomorrow's most in-demand leadership skills
Build and maintain competitive advantage
Future-proof itself by becoming more flexible and agile
Increase performance, teamwork, and accountability
Create leaders at every level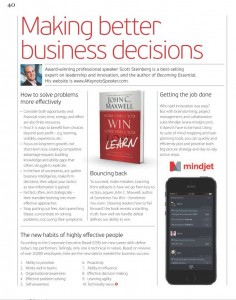 Through training and consulting engagements with dozens of the world's largest corporations and associations, Scott is proud to partner with CEOs, general managers and executive teams in every industry to drive positive change and innovation.
Recent programs include executive and board retreats, panel moderation, keynote speeches, and breakout sessions for many of the world's largest corporations, including: IBM, Microsoft, Ernst & Young, Century 21 Real Estate, AT&T, the National Association of College Stores, the Canadian Internet Registration Authority,  InfoComm International: The Audiovisual Association and the Consumer Electronics Association.
Having researched and consulted with scores of leading innovators and change management practitioners, contact us today to find out how Scott can partner with your organization to help fuel its ongoing success and growth.