In our latest business speakers report for U.S. Airways magazine (www.usairwaysmag.com), for which we're proud to provide a running column on business, leadership and technology trends, we take a moment to pause, zoom out a level, and take a look at the latest in management, leadership and hospitality trends. Aside from diving deeper into what leading hotel chains and destinations – e.g. Hyatt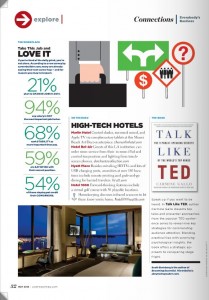 Place's variety of venues that specifically cater to business travelers with free WiFi, USB ports, dedicated work spaces, etc. – are doing to make travel more seamless for working professionals, topics covered include the newest developments in the career and professional speaking spaces. While the full piece is available in the publication's May issue, we thought we'd provide a brief overview of some of the highlights here.
For starters, business speakers of every skill level can step up their speaking and presentation skills with a new book from author Carmine Gallo, titled Talk Like TED. Interestingly, the volume offers a formula for giving more polished sales, marketing, and executive presentations using the same techniques as the most successful speakers who participate in the TED conference series' most popular speaking tracks. Learning to step up your communications skills, and soon, may not be a bad idea as well: As the latest research shows, a great deal of working professionals plan to change jobs shortly, and their motivations for either leaving or staying may surprise you. Pay, for example, isn't actually the single biggest driving factor in the decision to stay or move on – other factors such as how well we connect with colleagues and feel we're in a position with long-term potential have a greater impact on our choices than salary.
That said, to get a complete rundown, have a look at the clip online, which is completely free to access. We hope that you'll enjoy it, and that it'll provide a brief, but eye-opening look at the newest innovations and trends in a variety of increasingly fast-changing spaces.