Business speakers are a lucky bunch: Providing keynote speeches and corporate training at meetings, events and conferences isn't just an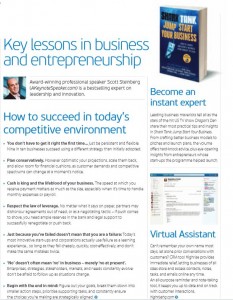 excuse to research and share hints, tips and advice about the latest management, marketing, customer service and social media trends. It's also an opportunity to offer audiences inspirational and motivational stories and insight into how they too can make a difference in any industry or organization. As you might imagine, we were both surprised and delighted when Oryx Magazine asked us to compile a number of the insights and feedback we'd received from these presentations, and share some key lessons on business and entrepreneurship we'd gained over the years with its readers.
Having worked with scores of leadership teams, senior management professionals and frontline workers, as well as emerging startups and fellow business speakers, we compiled a few vital insights you should be aware of into what we hope will prove an insightful clip, including:
How to plan and operate a successful business
Ways to more effectively negotiate and work with strategic partners
Expert advice on how to build a culture of innovation
Tips on plotting more effective business plans and strategies
Tools and technology you can tap into to cut costs and improve ROI
As you might imagine, it was a fun clip to write, and a genuine treat to be able to share these hard-won insights, which we hope will prove useful as you look to either start a new business, or take an existing enterprise to the next level. Most important to keep in mind as you peruse this how-to guide (snapshot included here, for the full clip see www.oryxinflightmagazine.com) when it comes to building and maintaining competitive advantage: Never stop learning and growing. If you can do that, you'll always know what it takes to succeed, and have a lasting formula for future-proofing your business.