MEDIA SPOKESPERSON, HOST FOR SATELLITE MEDIA TOURS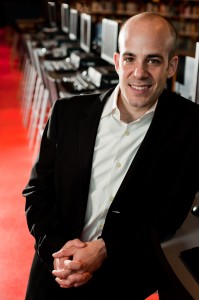 Need a media spokesperson for your next satellite media tour (SMT), virtual media tour (VMT), or live streaming online presentation? A trusted partner to over 1000 of today's leading brands, multi-bestselling author and analyst Scott Steinberg – among today's most well-known futurists and trends experts, as seen in 600+ outlets from CNN to The New York Times – can help. Recently named Fortune magazine's Master of Innovation, and the World's Leading Business Strategist, this Fortune 500 favorite thought leader can help you quickly connect with and engage audiences of every age and background – and get your message across.
As a media spokesperson and satellite media tour host who's made hundreds of live TV and radio appearances, Scott works hand-in-hand with corporate communications teams worldwide to deliver campaigns that resonate, and drive big business results. Not only can he help you quickly distill complex messages into simple terms that everyone can understand – he can help you craft presentation strategies that drive heightened awareness and conversation around your brand. A trusted global thought leader who's been seen by over one billion people worldwide, he reaches millions of audience members each year via TV, radio, books, speeches, online virtual media tours, and more. Just a few brands he's had the pleasure of partnering with include household names like Best Buy, Harley Davidson, Intel, Office Depot, Sony and Sprint.
Among today's most celebrated key opinion leaders and corporate strategists, he's well-known for helping create innovative marketing and social media campaigns that deliver wide reach, and helping rocket products to the top of the sales charts at a head-spinning pace, including several self-published releases.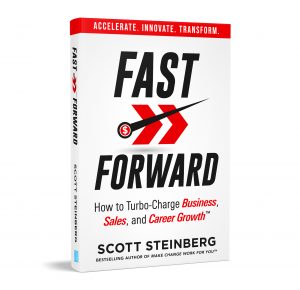 CELEBRITY SPOKESPERSON: ONLINE, VIRTUAL, SATELLITE TOURS
A celebrated influencer and the author of 17 books on business, consumer products, leadership, marketing, management and technology, Scott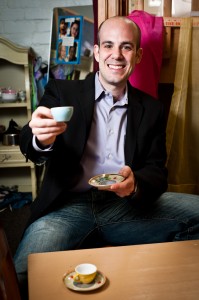 reaches millions each month through his keynote speeches, video shows, articles and syndicated columns. His most recent works include smash hits such as Fast >> Forward, Make Change Work for You, Think Like a Futurist and the #1 bestselling The Modern Parent's Guide high-tech parenting series.
Combining extensive marketing and public relations (PR) experience with a decade of work behind and in front of the camera, he often teams with firms like eBay, Ask.com, Motorola, NVIDIA, and LeapFrog to raise awareness. Among the field's most sought-after celebrity spokespersons and corporate hosts for products, services and events, from live keynotes and event speaking to MCing, video hosting and content production, Scott is available to assist with:
Press Conferences, Tradeshows, Meetings and Consumer or Corporate Events
Satellite Media Tours (SMTs) and Radio Media Tours (RMTs)
Internet Live Streams and Virtual Media Tours
Online, Digital and Social Media Campaigns
National and Local TV Appearances
Webinars and Audio or Video Podcasts
Bylined Articles, Blogs, Guides and Tip Sheets
Video and Radio News Releases
Online Videos, Training Videos and Internal/External Webcasts
Product Demonstrations
Mall Promotions
In-Store Events
Custom Publications
Targeted Mailings
Internal Communications Videos
Contests and Giveaways
For more information on corporate spokesperson services, please contact us today.