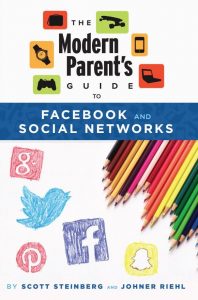 Social networks such as Facebook, Snapchat, and Instagram have completely changed the way that parents and kids share information and interact online. But with so many different new services and features emerging, how can you stay ahead of this ever-changing technology – and keep your family safe in the digital world?
The ultimate guide to navigating today's fast-evolving social media landscape, THE MODERN PARENT'S GUIDE TO FACEBOOK AND SOCIAL NETWORKS decodes the world of social networking for today's family – and offers an expert range of hints, tips, and solutions for ensuring that you and your kids can enjoy a safe and positive experience online. Questions answered inside include:
How can you connect with and engage kids on social networks?
At what age should children be connecting to Facebook, Twitter, Instagram, Snapchat, etc?
What information is appropriate to share online?
How to handle threats like cyberbullying, identity theft, and online addiction?
GET THE BOOK NOW:
FEATURES INCLUDE
• Expert Tips and Tricks: How to Keep Kids Safe on Social Networks
• Ways to Protect Your Privacy and Identity Online
• Comprehensive Guides – Today's Most Popular Social Media Services
• Inside Advice: Online Safety, Privacy, Digital Citizenship and More
• Addressing Common Threats – Cyberbullying, Harassment, Identity Theft, etc.
• How to Manage Your Family's Online Reputation
Want to communicate more effectively with kids? Give them the education and training they need to be safer online? Let THE MODERN PARENT'S GUIDE TO FACEBOOK AND SOCIAL NETWORKS be your guide to the world of social media and technology.
New from Scott Steinberg, author of the smash hit Make Change Work for You: 10  Ways to Future-Proof Yourself, Fearlessly Innovate, and Succeed Despite Uncertainty, be sure to pick up your copy today!