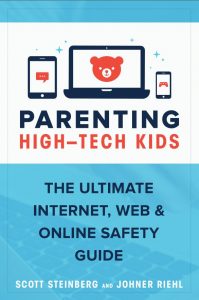 Wake up and smell the silicon: For today's kids, technology is now an everyday part of childhood and household life. A sweeping guide to the world of online apps, social networks, and high-tech devices, PARENTING HIGH-TECH KIDS offers modern families a better approach to teaching kids how to safely connect – and all the hottest new tips, tools, and tricks they need to stay one step ahead of the game.
Covering a comprehensive range of topics from online safety and privacy to social network usage, screen time, and the proper age to put high-tech devices in children's hands, PARENTING HIGH-TECH KIDS not only presents a sweeping look at the world of technology, as seen through the modern family's eyes. It also offers real-world solutions and advice for making technology a more uplifting part of children's lives by providing answers to tough technology questions such as:
How can you keep children safe online and on social networks?
What's the best way to handle high-tech challenges + threats?
How much screen time should children have?
At what age should kids get cell phones?
What can you do to manage your family's online reputation?
GET THE BOOK NOW:
FEATURES INCLUDE
• Comprehensive Guides: Online Safety, Social Networks, and More
• Ways to Protect Your Privacy and Identity Online
• Expert Tips – How to Deal with Online Dangers + Concerns
• Inside Advice: Setting High-Tech Rules and Guidelines
• Managing High-Tech Devices: Cell Phones, Video Games + More
• Addressing Common Threats – Cyberbullying, Harassment, Identity Theft, etc.
Want to teach kids how to be safer online? Give them the education + training they need to succeed in tomorrow's world? Let PARENTING HIGH-TECH KIDS be your guide to the world of high-tech devices, apps, and online technology.
New from Scott Steinberg, author of the smash hit Make Change Work for You: 10  Ways to Future-Proof Yourself, Fearlessly Innovate, and Succeed Despite Uncertainty, be sure to pick up your copy today!