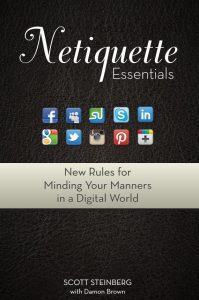 High-tech devices, social networks, and downloadable apps are now essential communications tools, and an everyday part of personal and professional life. But what does proper etiquette look like in an online + connected world? How do modern manners apply in the digital and social age? And what are safe and appropriate rules for using high-tech devices?
We're thrilled to offer the answers you need in new book NETIQUETTE ESSENTIALS: NEW RULES FOR MINDING YOUR MANNERS IN A DIGITAL WORLD, a groundbreaking guide to digital manners and how to act, communicate, and build successful relationships when using high-tech devices or online solutions.
Important questions you'll find answered inside NETIQUETTE ESSENTIALS include:
How can you successfully connect + build meaningful relationships online?
How to avoid costly/embarrassing social media mistakes or email blunders?
What's the best way to create powerful marketing, PR, and social media campaigns?
Which rules should you follow when networking + job hunting online?
What does it take to build a successful brand and connect with tomorrow's customer?
Online dating and relationships: To text or not to next?
How can you stay safe and protect your privacy online?
Want to build more powerful relationships online? Effectively engage tomorrow's online audience? Master the art of digital and social storytelling? Be sure to check out NETIQUETTE ESSENTIALS today!!!
New from Scott Steinberg, author of the smash hit Make Change Work for You: 10  Ways to Future-Proof Yourself, Fearlessly Innovate, and Succeed Despite Uncertainty, be sure to grab your copy now!