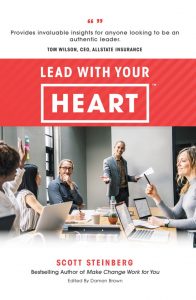 Nice guys finish first in business today. That's because putting people first and building strong, lasting relationships is the secret to success.
Want to build the kind of brand that audiences love? Create the type of business that everyone wants to work with? Deliver the kind of customer service that'll have fans raving? Lead With Your Heart™ is an inside guide to designing the company of the future; building products, services, and solutions that clients will adore; and promoting positive change at every level.
Inside, you'll find insights, tips, and strategies for:
Managing and Leading People
Providing Exemplary Customer Service
Building Better User Experiences
Boosting Productivity and Teamwork
Sparking Creativity and Innovation
No matter if you're a market leader or emerging start-up, seasoned executive or new recruit, Lead With Your Heart offers you the tools that you need to better:
Connect with Clients
Create Must-Have Products + Services
Win More Business
Stay at the Top of Your Field
Looking to build the business of your dreams – and theirs? Lead With Your Heart offers the tools that you need to stay ahead of the curve, and find ongoing success, whatever the future may bring.
"Provides invaluable insights for anyone looking to be an authentic leader." – Tom Wilson, CEO, Allstate Insurance