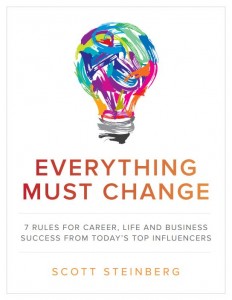 Are you living the life you want to lead? Pursuing the career you've always dreamed of? If not, today's most successful online and social media influencers have a simple question: What's stopping you? In free eBook Everything Must Change: 7 Rules for Career, Life and Business Success From Today's Top Influencers, the world's most-renowned thought leaders offer simple, practical strategies for finding personal and professional success in record time. Inside, you'll discover their personal stories and insights, along with simple, life-changing strategies that anyone can use to overcome challenges, and achieve virtually any goal they can envision.
Inside, You'll Find:
7 Ways to Turbo-Charge Your Career
New Rules for Success in Life and Business
How to Score Your Dream Job
How to Create the Life You've Always Wanted
Expert Advice: Ways to Drive Positive Change and Stand Out
Featured Experts Include:
Chris Brogan
Ann Handley
Guy Kawasaki
Dave Kerpen
Mari Smith
Brian Solis
Gary Vaynerchuk
Free from Scott Steinberg, author of the smash hit Make Change Work for You: 10  Ways to Future-Proof Yourself, Fearlessly Innovate, and Succeed Despite Uncertainty, be sure to download your free copy today by signing up below!
books
Register Now
to Get Free Books
+ Exclusive
Trend Reports
No spam. We respect your privacy.