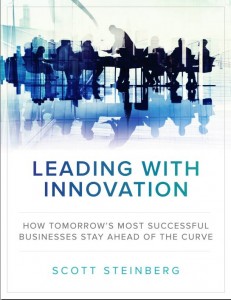 Today's business leaders, and businesses, operate in a world of endless change and disruption. But as you'll discover in free eBook Leading with Innovation: How Tomorrow's Most Successful Businesses Stay Ahead of the Curve, anyone can follow the simple formula that the world's most successful organizations use to survive and thrive, even in the most unpredictable and uncertain business environments. Readers will learn how top innovators from Intel, SAP, EMC and more drive ongoing growth and success in this must-see digital download from Scott Steinberg, author of the smash hit Make Change Work for You: 10  Ways to Future-Proof Yourself, Fearlessly Innovate, and Succeed Despite Uncertainty – be sure to download your free copy today by signing up below!
Inside, you'll find:
How Market Leaders Stay Ahead of the Competition
5 Ways Your Business Can Unleash Creativity + Innovation
Strategies for Succeeding in Fast-Changing, Unpredictable Markets
A Simple System for Adapting to New Times and Trends
The #1 Most Important Choice Needed to Find Business Success
books
Register Now
to Get Free Books
+ Exclusive
Trend Reports
No spam. We respect your privacy.