PROFESSIONAL SPEAKERS, MEETINGS & EVENTS MADE SIMPLE
THE ULTIMATE GUIDE TO EVENT PLANNING, MARKETING AND SALES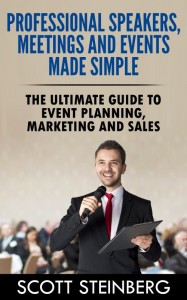 Are you a certified meeting professional (CMP), meeting planner, or executive organizing a special event? Don't send out an invitation, or book professional speakers and hotel and event space, without reading this must-see training guide first.
New from international bestselling author Scott Steinberg, this meeting planning workbook provides expert hints, tips and step-by-step guides for getting more from every occasion, including:
– Creating unforgettable events, conferences, and tradeshows
– Sending ticket sales, attendance levels, and audience enthusiasm soaring
– Making meeting planning and event setup simple and effortless
– Getting more from professional speakers, keynotes and breakout sessions
– Designing headline-making marketing, PR and social media campaigns
– Extending the value of meetings and events
– Increasing audience participation, value, and return on investment
Professional Speakers, Meetings and Events Made Simple provides a complete range of exercises and activities that walk meeting planners through the event planning, marketing and management process. Inside, you'll discover the secrets today's most successful meeting planners use to design top events, from ways to raise awareness and boost attendance to essential tools for event organization and ways to more effectively make technology, venues and destinations work for your company or organization.
Designed for meeting planners of all skill levels, Professional Speakers, Meetings and Events Made Simple gives you all the tools and tips you need to create meetings, conferences and tradeshows that audiences will rave about.
books
Register Now
to Get Free Books
+ Exclusive
Trend Reports
No spam. We respect your privacy.