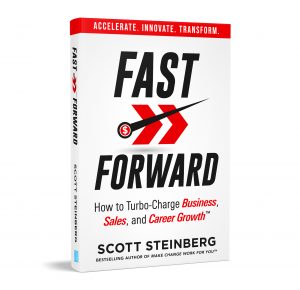 Discover how to put your business and career on the fast-track to success as the world's leading business strategist reveals top performers' proven methodology for achieving goals quicker, and getting things done in no time flat.
Explaining how to breeze past challenges and rack up personal and professional accomplishments at a head-spinning pace, FAST>>FORWARD: How to Turbo-Charge Business, Sales, and Career Growth™ (available October 1, 2020) breaks down the simple formula that today's most successful leaders use to complete tasks with less time and expense.
A masterclass in ingenuity, this handy guide to practical, everyday innovation provides tools that can help you more rapidly solve any problem, and quickly accomplish any objective.
Why wait to achieve all your business or career goals when you can start quickly ticking them off your to-do list today? Inside FAST >> FORWARD, you'll find the insights you need to:
Fast-Track Growth and Success
Accelerate Change and Innovation
10X Productivity and Performance
Make Better Business Decisions
Drive Digital Transformation
Strap on your seatbelt, and prepare yourself for a crash course in how to make things happen, as FAST >> FORWARD shows you how to rocket past obstacles, rebound from setbacks, and take your prospects from 0 to 100 in no time flat.
"…A must-read for everyone looking to put themselves on a faster track."
-Kurt Hoppe, Director Product: Android for Cars, Google